Stop the Traffik
Volunteers from Hope Kitchen joined a session highlighting the issues surrounding modern slavery and human trafficking on Wednesday, September 25. 
Globally, there are 40 million people in slavery, across 167 countries. One in four of these are children. Britain is home to at least 136,000 victims of human trafficking, according to The Global Slavery Index 2018, with Sussex ranking third in the highest region in which potential victims were exploited - just behind Greater London and Avon and Somerset.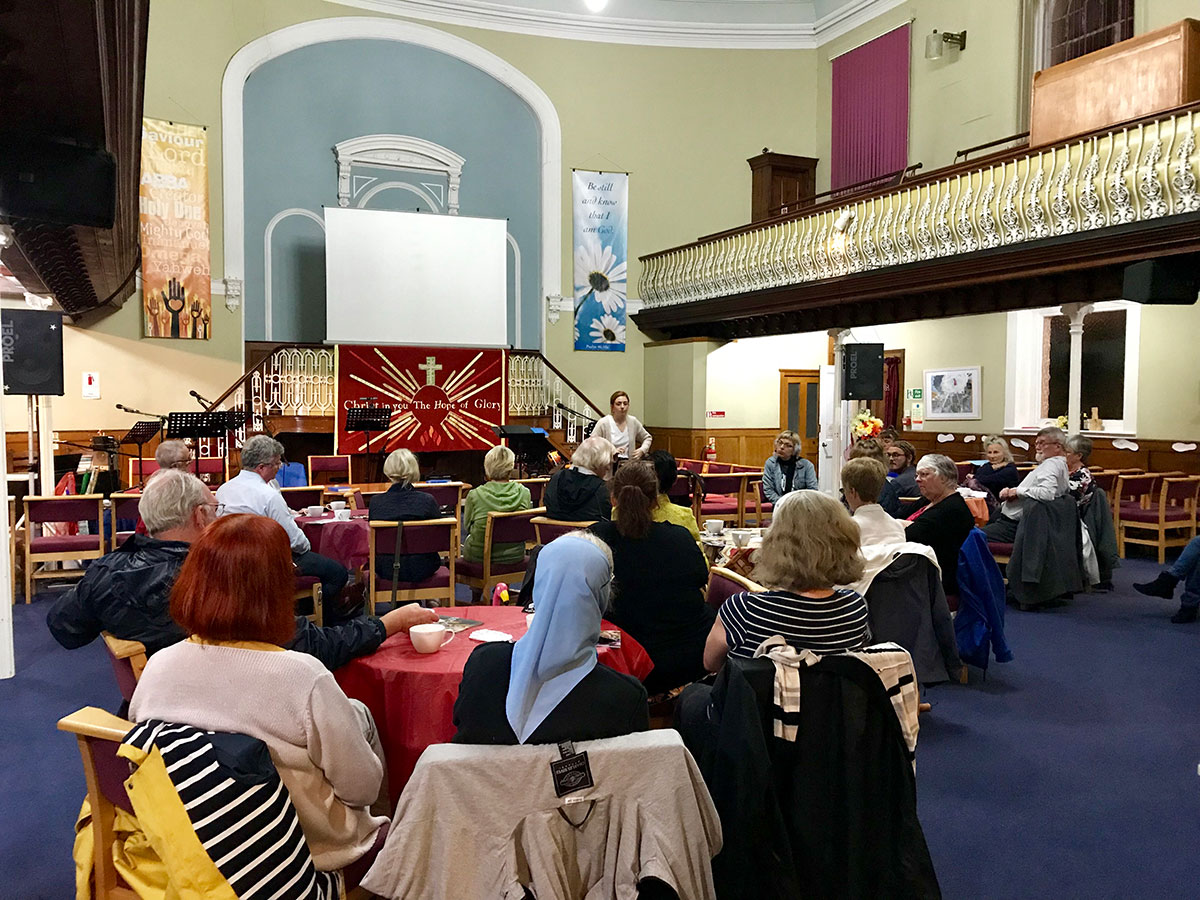 The talk, also attended by volunteers from Snowflake Night Shelter, was delivered by Laurie Church from Stop the Traffik and gave guidance on the signs to look out for that may indicate someone is being exploited. Laurie also advised volunteers on what to do if they have concerns that someone is the victim of modern slavery or human trafficking.
Many of the potential victims (PVs) identified by Stop the Traffik have also experienced homelessness - 48 PVs experienced homelessness before exploitation, 86 PVs were reported as homeless during exploitation and 234 PVs fell homeless after exploitation. Six PVs were even recruited at homeless shelters.
That's why those who work with the homeless, like Hope Kitchen and Snowflake volunteers, are in a strong position to identify potential victims of modern slavery, provide support and prevent exploitation from happening in the first place.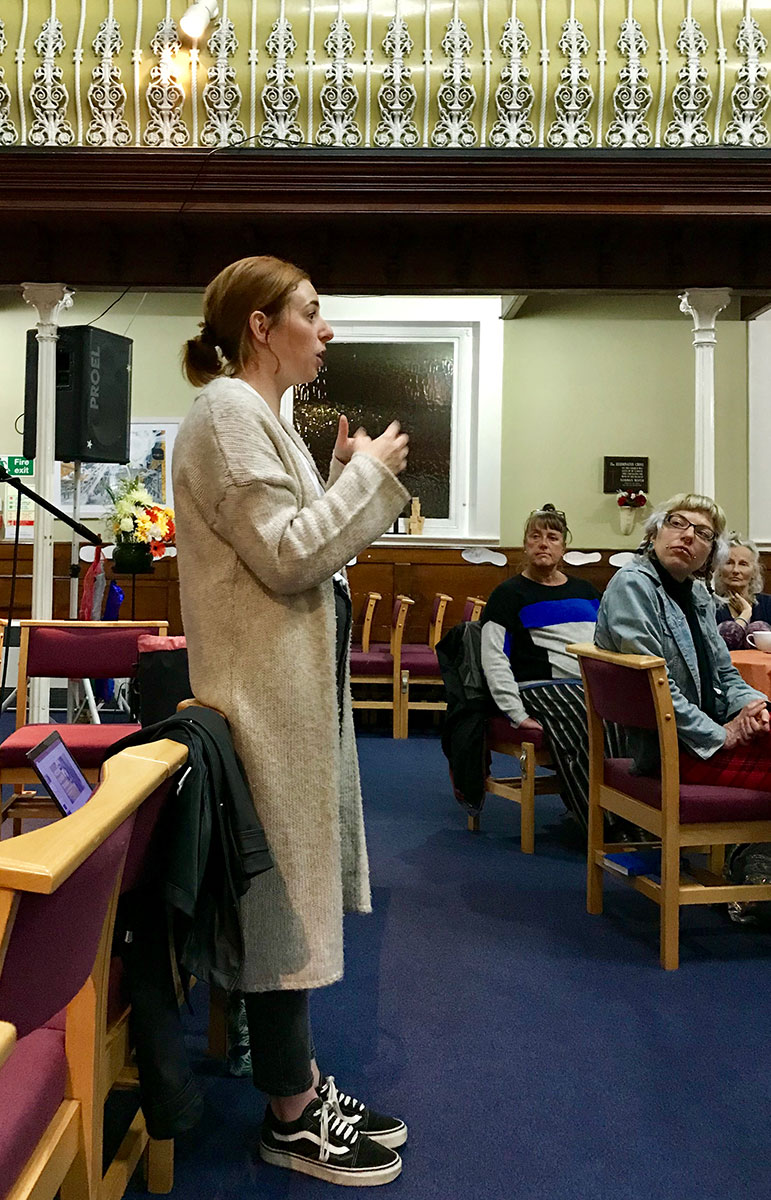 Laurie told volunteers of the five types of exploitation - sexual exploitation, labour exploitation, domestic servitude, forced marriage and forced criminality - and the indicators to look out for among vulnerable and homeless people. 
Signs include being fearful, anxious or distrustful of authorities, appearing malnourished, showing signs of trauma (physical or psychological), suffering injuries that may be the result of controlling measures or that have been left untreated, being unfamiliar with the local language, not knowing their home or work address, and having a story that sounds rehearsed.
Other indicators include believing they have a debt to pay off, being separated from their ID documents, not having any days off or being unable to leave work, and having limited to no social interaction.
Signs of sexual exploitation include someone being moved between locations, an uncertainty of their age, little to no English, being closely guarded or accompanied, and being subjected to other crimes such as assault and abduction.
Labour exploitation is often found in places such as car washes, nail bars, construction sites, in agriculture, restaurants and takeaways, in the care sector and in cleaning jobs. Indicators include a lack of suitable work clothing, living in overcrowded accommodation, having a mini-bus pick them up and drop them home from work at unusual times, being fearful or poorly integrated, and retention of their ID documents.
In cases of forced criminality, people are often engaged in on-street begging, cannabis farming, drug running, cuckooing and benefit fraud. Signs of this include a group of beggars that move daily and are being watched, an unexplained acquisition of money or material goods, having multiple phones, unexplained injuries and a change of peer group.
So what should a Hope Kitchen volunteer do if they suspect someone is being exploited? The first step should be to discuss it with a team leader of a trustee. Following that, a decision may be made to call the Modern Slavery Helpline on 0800 0121 700. The 24/7 helpline can be contacted if you are uncertain whether someone is being exploited or not, and if you have any queries or concerns. Volunteers should not refer to the guest by name unless they have permission.
Getting permission from a potential victim to report exploitation can be a difficult task, as there are often barriers to disclosure such as fear of the trafficker, or fear for their families and loved ones. They may also have a language barrier, a lack of trust in authority, or perhaps do not recognise themselves as being exploited.
In some cases, even if they identify as being exploited, they may not wish to report the trafficker as it could result in them losing their employment and/or accommodation, or could result in them being sent home if they are in the country illegally
Stop the Traffik urges volunteers to build up a rapport with individuals they believe may be being exploited. This way, they can gather information but also reassure them about the support available for victims of modern slavery and human trafficking.
The National Referral Mechanism (NCM) can provide support for potential victims by giving them access to safe houses, legal advice, counselling, transport, healthcare, education, training and outreach. A referral to the NCM is voluntary, so a potential victim would need to consent in the first instance. If they do not consent to a referral, they can still call the Modern Slavery Helpline anonymously on 0800 0121 700 for further advice
There is a dedicated team working on tackling modern slavery and human trafficking in Sussex called Discovery, which includes Sussex Police officers, council workers and members of Stop the Traffik. They can also be contacted if a volunteer wants to report a potential case of exploitation, by emailing discovery@sussex.pnn.police.uk. Remember, volunteers should not identify a potential victim unless they have permission.
In case of an emergency, if someone is in immediate risk of harm, always call 999.
For more information or if you have any questions or concerns, Laurie can be contacted at laurie.church@stopthetraffik.org. Volunteers can also visit the Stop the Traffik website at www.stopthetraffik.org <http://www.stopthetraffik.org>  for more details.
Modern slavery and human trafficking is often referred to as a hidden crime, as it can take place in the communities around us without anyone realising. By knowing the indicators and looking out for them among some of the most vulnerable people in our society, volunteers can be the eyes and ears on the ground that help the authorities to tackle exploitation.
More Features and Stories